Streets of Afghanistan: Bridging Cultures through Art (Hardcover)
Search Here to Order a New Book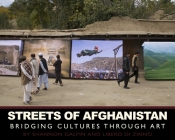 $40.00
Book may be unavailable or out of print. Please email or call for more information.
Description
---
"The beautiful photographs in this book vividly capture the daily lives of ordinary Afghans and serve as a powerful reminder of the power of art to inspire, to bring people together, and to allow for moments of transcendent grace amid struggle and suffering." −Khaled Hosseini, Author of The Kite Runner

The fruit of years of collaborative work between Afghan and Western photographers and photojournalists, Streets of Afghanistan chronicles one of the most captivating efforts to connect communities and cultures through our common humanity and the power of art.

A collection of the spectacular photography of the Mountain2Mountain (M2M) project — a collaborative effort between Western and Afghan photographers — Streets of Afghanistan is a striking combination of art and activism that is sure to change your entire perspective on the Afghan culture.

Complete with short descriptions that allow the reader to follow the footsteps of the M2M project as they explored the hidden beauties of this faraway land, Streets of Afghanistan is more than just a book — it is a strong step towards closing the divide between East and West.

Shannon Galpin, founder of M2M, on the importance of the project: "[People think that] because this is a country fraught with conflict and poverty that art doesn't have much importance. I disagree. I think art is all the more important here. Art has the power to inspire, to spark conversation, and to bring joy — showcasing these images in public areas where Afghans can enjoy art for art's sake, and be proud of the beauty and spirit of their country."

After an extremely successful tour in the United States, the Streets of Afghanistan project returned to Afghanistan, to give the exhibit's subjects an opportunity to see themselves in a new light. Impressive and captivating on both sides of the world, Streets of Afghanistan collects both the photographs and the cultural import of a misunderstood region into one visually striking book.

Looking at the photographs, it is easy to immerse yourself in a culture which was previously unknown to many Western audiences. In the pages of this inspiring book, readers will find themselves being led through the beautiful vistas of Afghanistan, introduced to its people, and exposed to their joys and their sorrows — all through these incredible photographs.

Streets of Afghanistan is more than just a book or a photo album; it is an opportunity to expand your horizons and learn about our brothers across the world.
About the Author
---
Shannon Galpin founded Mountain2Mountain in November 2006 to work towards connecting communities to combat the apathy that prevents action, and to change perceptions. After four years working in various parts of Afghanistan working with women and girls, Shannon developed long-term strategies that focused on cyclical solutions in conflict zones globally that focused on connecting communities and sparking conversation. Shannon writes regularly for Huffington Post and Matador Network, and is currently writing her first book. She has been featured on Dateline NBC, Today Show, Huffington Post and in Outside Magazine. Her first TEDx talk was in 2012 on the Power of Voice which best illustrates the thread that links all of her work together. She was also recently chosen as one of the National Geographic Adventurers of the Year for 2013.

Libero Di Zinno was first introduced to the world of working with non-profit foundations through co-teaching a prototypical ACCD class based upon the UN's Millennium Development Goals. Currently a Los Angeles-based photographer/documentary filmmaker and a professor at the Art Center College of Design, since early 2008, Libero has been an advisory board member at large for Mountain2Mountain. In addition, he has contributed his own images from Tibet, Nepal, and Afghanistan to M2M's group photo exhibits such as, the "Views of the Himalaya" (2008), "Views of Afghanistan" (2009), "Dreams of Kabul" (2010), and the most recent "Streets of Afghanistan" (2011-2012). His book projects include Ultramarathon Man by Dean Karnazes, Surviving the Toughest Race on Earth by Martin Dugard, and For the Love of the Game by Michael Jordan. His work has also been featured in Outside Magazine, Men's Journal, and ESPN. For further examples of Libero's stills or motion art, go to www.dizinno.co.uk.
Praise For…
---
"The beautiful photographs in this book vividly capture the daily lives of ordinary Afghans and serve as a powerful reminder of the power of art to inspire, to bring people together, and to allow for moments of transcendent grace amid struggle and suffering." −Khaled Hosseini, Author of The Kite Runner